Student Spotlight: Alexsis Wagstaff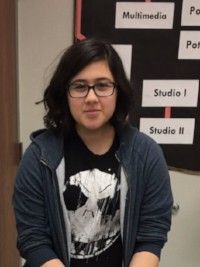 Art education provides students with opportunities that fosters individual expression and independent thinking. An excellent example of this is Nebraskans for the Arts' April Student Spotlight winner, Alexsis Wagstaff.
"Aleksis' ability is tremendous; she is easily one of our most talented students," says her nominator, Mary Todero, Art Teacher at Park Middle School.  "She takes every assignment very seriously and moves it to the highest level, intellectually and visually."
Aleksis is a senior at Papillion LaVista High School. Recognitions she has received include Gold Key, Nebraska Federation of Women's Clubs Art Show, Scholastic Art Awards and the school's Honor Roll.
"She is talented in every medium and is truly one of the most dedicated and talented students with whom I have been able to work," says Todero.