Student Spotlight: Jacob Montey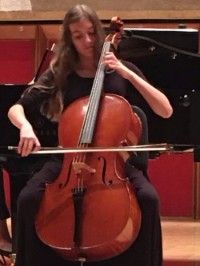 Music education nurtures skills that are critical to future success, including creativity, determination, and motivation. Nebraskans for the Arts' latest Student Spotlight winner, Anastasia (Asia) Wilson, demonstrates through her personal performance and volunteering efforts that music helps develop the student behind the score. 
Asia, who is a Junior at Omaha Central High School, has received many accolades for her musical performance, including:
Kearney Symphony Orchestra's Young Artist Award, String Division and Overall Winner (cello)

NSAA District Music Contest, Superior Rating 2016 & 2017, Outstanding Performance Award 2016 (cello)

UNO String Ensemble & Solo Olympics, Superior Ratings and Medals, 2013-2017 (cello)

Member of High School Honors Symphony Orchestra at Carnegie Hall 2017 (cello)

Philadelphia International Music Festival's Kimball Concerto Competition Runner-Up 2016 (cello)

Philadelphia International Music Festival's Practice Marathon, Runner-Up 2016

NMTA District & State Music Festivals, Superior Rating 2013-2016 (piano)
Asia lives, eats and breathes music. "Asia has made tremendous progress in the six years she has been a member of our Omaha Area Youth Orchestras, said her nominee, Music-Conductor Director Aviva Segall. "Asia takes every opportunity available and has been an active part of our chamber music program in addition to the orchestras."
In addition, Asia is one of Omaha Area Youth Orchestra's most active volunteers. She never passes up an opportunity to mentor younger musicians in the Honors Orchestra, Prelude Strings or other programs. She is always willing to perform for others as a soloist, in chamber music or in an orchestra. She is as comfortable playing in the Omaha Farmers Market as she is in the Holland Performing Arts Center.
"Music has enabled me to teach others to love the arts and to provide a positive influence to those around me," said Asia.