Student Spotlight: Maggie Harris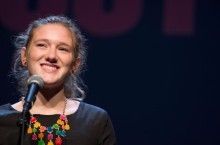 The October Spotlight on Student Achievement in the Arts is awarded to Thayer Central High School student and 2016 Poetry Out Loud Nebraska State Champion, Maggie Harris.
Maggie is a student with great zest, participating in all the opportunities in the arts that are available to her at school. Some of her achievements as a freshman last year included:
Poetry Out Loud Nebraska State Champion

Outstanding Performance, District Music

District Speech Medalist, Duet Acting

Outstanding Actor Award, District One Act
Nominating teacher, Anne Roesner Heitmann, said, "Maggie is a quintessential representative of the performing arts. She sparkles on stage whether it is singing, acting, or reciting poetry."
"We are especially proud of Maggie's achievements in Poetry Out Loud," Heitmann said. "She won a very competitive school contest and then went on to win the state competition."
"After we had finished, I really had no idea what was going to happen," Harris said about the State Poetry Out Loud competition. "I was kind of surprised I won; everyone else was so good!"
As the Nebraska Poetry Out Loud Champion, Harris received $200 and an all-expense-paid trip to Washington, D.C., last May and competed in the national championship. Harris' school received a $500 award to purchase poetry books.
Maggie believes the arts make a significant impact on her life. "The arts are a part of my past and future. I wouldn't be who I am today without them," she said
The National Endowment for the Arts and the Poetry Foundation have partnered with the Nebraska Arts Council and U.S. state arts agencies to support Poetry Out Loud, a contest that encourages the nation's youth to learn about great poetry through memorization and recitation. This program helps students master public speaking skills, build self-confidence, and learn about their literary heritage. For more information about the 12th annual Poetry Out Loud competition, contact the Nebraska Arts Council at (402) 595-2122/(800) 341-4067, or visit the Poetry Out Loud website to learn more about the program.