Student Spotlight - Cassie Brenner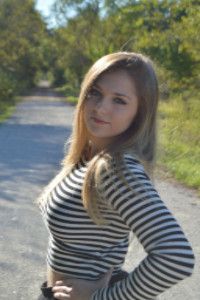 They say a picture is worth a thousand words. But what do they say about the person behind the lens of the picture? In the case of Nebraskans for the Arts' May Student Spotlight winner, Cassie Brenner, her photographs help illustrate a person who has used her arts education to succeed in all aspects of student learning.
"Art has shown me an entirely new perspective on the world," says Cassie. "Now when I look at something I don't just see what everyone else does. I see something with its own story, a story that excites me because I get to bring it to life."
Cassie is a senior at Raymond Central High School. She has lettered in numerous sports and is on the honor roll for academics and the National Honor Society. She participates in One Act Play, lettering on a team that has won Districts and competed at State the last two years.
A love for photography developed as Cassie worked on the school's journalism staff, helping with the school's newspaper and yearbook. She has had her photographs selected and shown at:
- Nebraska Association of School Boards Conference
- Nebraska Wesleyan Bridge Art Show
- Scholastics Art Show of Nebraska
Her success in photography has led to Cassie being selected for the National Art Honor Society, earning a scholarship in the Nebraska Wesleyan University Bridge Art Competition, and gold and silver keys in the Scholastics Art Awards for Nebraska for her many photographs and her portfolio of high school work.
"Cassie is a talented photographer who develops the subtleties and nuances of her subjects," says her art teacher and nominator, Jean Rempfer. "I look forward to seeing the excellent work she will produce at the college level and beyond."