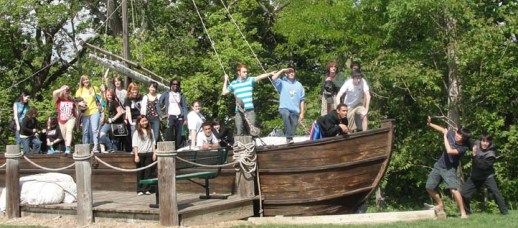 Approximately 40 student performers from Lincoln High went on a field trip to the Lewis & Clark Missouri River Visitor's Center on April 20th in preparation their production of "Birdwoman, the Story of Sacagawea". The trip provided the students actors with an enhanced experience of the Lewis and Clark trail. This in turn provided excellent historical research for their characters.
Students were able to interact with the many and varied museum exhibits about the Journey of Discovery lead by Lewis & Clark from 1803 to 1806. This physical experience went beyond what the students were able to find in a library or on the internet. Hands on activities such as keeling a flat bottom boat and sitting inside a Plains Indian earth lodge brought history to life in a vibrant and interactive experience. They saw first-hand which birds, plants and animals were prevalent along the Lewis and Clark trail. They also learned about Native American medicine and compared it to western medicine of the time. At the museum, they saw and touched what their characters in the play actually experienced. This resulted in an enriched performance for the audience.
In preparing for the field trip, the cast of students lead by their teacher and director, Patsy Koch-Johns, researched the journey of Lewis and Clark. Playwright, Rick Averill, also visited the school to speak to the students and share his vision of the play. They also listened to Native American speakers as well. All of this culminated in the production which was held April 26-28 at Lincoln High.
Visit the NFTA FaceBook Page to view comments by the students on the play and read their about experience visiting the Lewis & Clark Missouri River Visitor's Center. Funding for the field trip was provided through a School Bus for the Arts grant, from the Nebraska Arts Council.